This post is sponsored by Lowe's as part of an Influencer Activation for Influence Central. All opinions expressed are my very own.
I love wreaths. I love them for the holidays and also for, well … no reason whatsoever! I love them on the walls of my home. But I especially love having them on my fronts doors. For quite some time I've had my eye on two lush harvest wreaths in delicious fall colors. It makes for lovely curb appeal. But as far as decor goes, with double front doors, it means double the work and double the investment. What does all this have to do with a DYI Halloween wreath? I can explain.
This year I found the gorgeous harvest wreaths I've been wanting at Lowe's. Yes, Lowe's! Lowe's has always been a favorite go-to store of mine. Fact is, when our daughter-in-law was joining our family almost twenty years ago, she told me she had never met a woman whose favorite store was a home improvement store. Interestingly, I think Lowe's is a favorite store for her now, too!
Back to the wreaths. Lowe's had my harvest wreaths for an excellent price. And as you can see, they're gorgeous! They're 28 inches of glorious autumn colors, complete with leaves, gourds and berries. I'm over the moon for them! They are perfect for bringing autumn to our doors starting in September and through to Thanksgiving in November.
But what about October? I want our new harvest wreaths to welcome visitors throughout the Halloween season also. So, instead of buying new wreaths, I decided to come up with an easy peasy DIY Halloween wreath using our beautiful harvest wreath as the base. This switch can be permanent or temporary. I chose to make it a temporary switch so the wreaths can 'hang around' from the beginning of autumn through Thanksgiving.
DIY Halloween Wreath
Supplies:
Store-bought Fall Wreath from Lowe's
Black flowers
Small spooky decorations
6 yards black ribbon for hanging wreath. If you are hanging two wreaths you'll need 6 yards for each one.
4 yards of a variety of ribbon for decorating your wreath with ribbon strips and loops. We choose black for Halloween and a burlap with printed black pumpkins.
Hot glue gun if you want your wreath to be Halloween forever (wink)
Hot glue sticks
A push pin to hang each wreath
Instructions:
Set aside the 6 yard length of black ribbon for hanging the wreath.
Cut your some of your ribbon into 5 inch lengths with diagonally cut ends. These are the ribbon pieces that will poke out of the foliage of your wreath.
Cut some of the ribbon into 10 inch lengths. These will be the simple loops as shown in the photos.
To make the knotted loops, simply fold the 10 inch lengths in half lengthwise and tie the raw ends in a over hand knot.
Add flowers, ribbon strips and ribbon loops to your harvest wreath. Add as much or as little as you want.
You can use the hot glue gun to add your decor, or simply poke it in the foliage as I did.
You can also add a bit of purple which as of late has become a traditional color for Halloween. Be creative and make it you.
We hang our wreaths with ribbon. We love the look and there's no damage to the doors.
Loop the 6 yard length ribbon around the top of your wreath measuring each end out evenly. Carefully tie an over hand knot 6-8 inches from the wreath
Simply run the ribbon over the top of the door and use a push pin to anchor it on the inside of the door
Let your ribbon ends hang down inside the door, or tie the ribbon ends in a bow. Whatever suits your fancy!
And there you have it! Your very own harvest and DIY Halloween wreath. I am so in love with both!
The gorgeous harvest Thanksgiving wreaths aren't the only autumn and Halloween decorations I've had on my bucket list. I've also been eyeing this pumpkin topiary. And I've always been in love with vintage Cinderella pumpkins. Lowe's came through once again with what I envisioned and at excellent prices. We really like having live flowers in our gardens and for the holidays. So, how about that festive red mum in the orange carving pumpkin?
I bought extra Halloween ribbon to decorate the pumpkins. This pumpkin topiary can go from autumn to Halloween and thanksgiving with just a bit of ribbon. Same with the Cinderella vintage cream craft pumpkin. Easy Peasy I tell you!
Have you ever used an orange carving pumpkin as a flower pot? I'm loving the results! All I did was cut off the top and clean out the inside. I slide the plastic pot and red mum in the pumpkin. It fit perfectly!
I'm loving our new harvest/Halloween front porch. I know without a doubt it's going to be a hit Halloween night!
How about you? Do you like decorating your front porch for the holidays? Lowe's has made is easy peasy for you to shop our look, getting the best decorations at the best prices!
Facebook, Twitter, Pinterest and Instagram. You're sure to find the perfect decoration on your bucket list!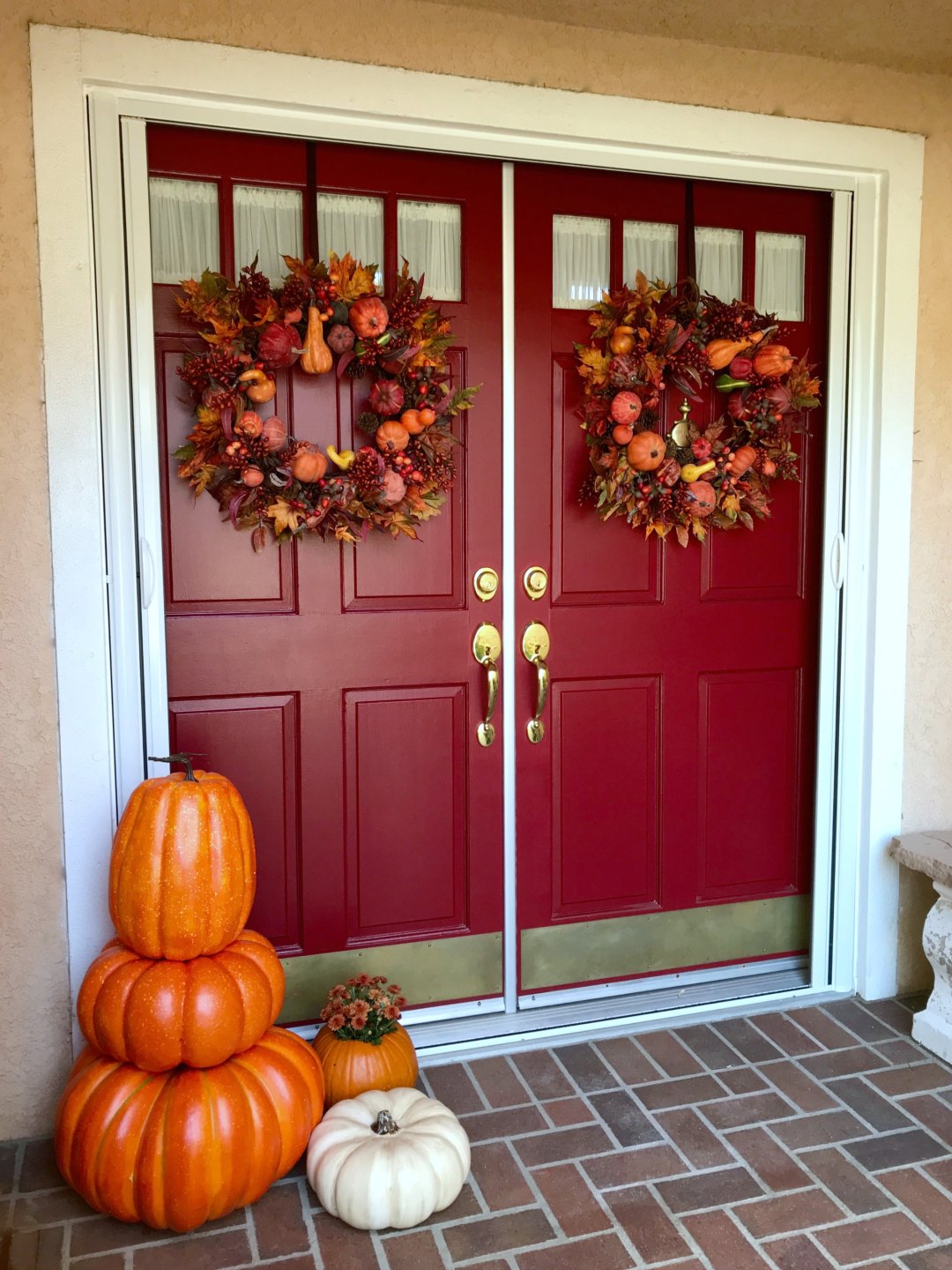 Related Posts via Categories